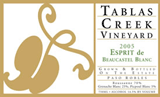 When this month's Great Grape was declared as Roussanne and Marsanne, I knew I would have a small sample to choose from.  These 2 grapes originate from the Rhône Valley in France.  Neither grape is particulaly easy for winemakers to grow and use in making wine.  Both are usually blended with each other or other white grapes.  The blending of these grapes is common in the Côtes du Rhône region of France.
Looking over my recent tasting notes, I came across two wines that I recently enjoyed containing a majority of Roussanne.  Ironically, both of these wines originated from the Paso Robles region in California.  So I will make a leap to say that Paso Robles is a good region for growing these grapes.
The first wine that I am recommending is the 2005 Tablas Creek "Esprit de Beaucastel Blanc" $35.  It is made from 70% Roussanne, 25% Grenache Blanc, & 5% Picpoul Blanc.  This is a very concentrated and flavorful wine.  We rated this wine Very Good (90-93).
The second wine that I recently had containing Roussanne was the 2005 Linne Calodo "Contrarian" $36.  This wine contains 64% Roussanne & 36% Viognier.  It is creamy, well balanced, and loaded with pear flavors.  We also rated this wine as Very Good (90-93).
Neither of these wines are inexpensive, but perhaps that is due to the fact that Roussanne is such a difficult grape to grow and then turn into a quality wine.  So if you are looking to enjoy something different, I highly recommend these 2 options from Paso Robles.  Cheers, Ken