With wine popularity growing exponentially these days, folks are starting to experiment with different wines and wine regions.  I am going to suggest that you give Chenin Blanc from South Africa a try.  I am sure you will be delighted.  Did you know that South Africa is the 9th largest producer of wine in the world?  Chenin Blanc is still their most widely planted grape varietal.  In 2006, South African imports into the U.S. were up 7% from 2005.  104 new producers entered the U.S. market in 2006 as well.  In March of 2007, Eric Asimov of the New York Times stated that "South Africa today is teeming with good Chenin Blancs, wines of freshness and character with prices that make them exceptional values."  We found that statement to be right on the mark.
Over the Fourth of July holiday a few members of the KensWineGuide.com tasting panel sat down to try a few of South Africa's recent offerings of Chenin Blanc.  We were quite delighted with the results.  All the wines passed our Very Good or better standard.  The Mulderbosch scored even better with a Very Good .  In addition, all the wines are extremely good values at $14 or less.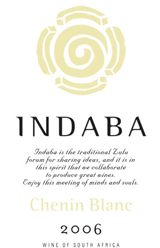 We opened the session with the Indaba 2006 Chenin Blanc.  The Indaba brand was founded as a celebration of the newly unified South Africa.  Its original translation means "a meeting of the minds".  This Chenin comes from some emerging regions in South Africa's Western Cape.  It is 100% Chenin Blanc and unoaked.  This wine was certainly a crowd pleaser and didn't last long.  We found this wine to be a very nice option for the summer at $9 per bottle.  As a bonus, the winery also contributes some of the proceeds from the sales of the wine to a scholarship fund to support South African studies in viticulture, oenology, agriculture, and business.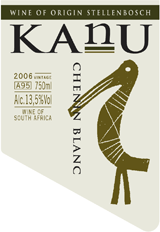 Next up was the Kanu 2006 Chenin Blanc.  Kanu's label is emblazoned with a very large distinctive bird.  This is the mythical "bird of promise."  As we found out this wine is very promising as well.  We found this unoaked Chenin Blanc to be a real quaffer.  This wine was an easy wine to drink. It is made from 88.8% Chenin Blanc, 6% Sauvignon Blanc, and 5.2% Chardonnay.  This is another refreshing Chenin from South Africa and a bargain at $10 per bottle.
The next wine has garnered my attention for the last few years.  The Raats 2006 "Original" Chenin Blanc $13, like its predecessors did not disappoint.  The Raats family focuses on Chenin Blanc.  Their goal is to use South Africa's older Chenin vineyards to lead the charge in positioning South Africa as the leader in New World Chenin Blanc.  The "Original" is their unoaked offering.  This medium bodied wine has granny smith apple flavors and is nicely refreshing.  We enjoyed this Very Good wine.
Finally, we came to the best wine of the tasting.  The 2006 Mulderbosch was the clear winner.  Winemaker, Mike Dobrovic, has established a bit of a cult following with his Sauvignon Blanc.  I am here to tell you that his Chenin Blanc is in a similar league.  We found this wine had more structure and length than the other offerings we tried.  Perhaps the fact that he uses oak in the process has a bit to do with it.  I particularly enjoyed the wine's pear flavors and the fact that it would pair so well with seafood.  We rated this wine Very Good and for $14 it is a real steal.  You have to try it!!
In conclusion, if you have not tried Chenin Blanc from South Africa, you are missing out on some of the world's finest dry and off-dry Chenin Blanc.  My suggestion is that you do what we did.  Gather some friends, find 3 or 4 different bottles, and open them up on a hot day this summer.  You will enjoy the refreshing effect that the wines offer.  Trust me you will not be disappointed.  Cheers - Ken