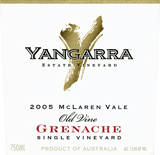 I love Grenache from Australia! Grenache is grown in the Rhône Valley in France, throughout Spain, in Australia, and in California. I like New World styled Grenache as it really expresses the grape's terrific fruit flavors. For my taste, Australia and Southern California producers do a great job extracting the flavors I love. I went with Australia because they have some great old vines of Grenache grapes.
So for this post I requested some samples from the Grateful Palate a terrific importer from Australia and the Yangarra Estate. Of the four samples I received, I am recommending three of them at different price levels. The three I am recommending are the 2003 Trevor Jones "Boots", the 2005 Yangarra Estate "Old Vine", and the 2005 Grant Burge Family "Garnacha". We had a mini tasting on Saturday night with a few members of my tasting panel. They were up for a change after having reviewed many Merlots the night before.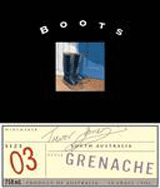 The 2003 Trevor Jones "Boots" is a nice entry level Grenache. It has an affordable price point at $15. Its bouquet was a bit tough at first with a petrol like aroma. But with some air it seemed to dissipate. If you can get past the early nose, this wine is quite tasty and a really good wine for the money. We rated this wine as Very Good.
The best value of the evening was the 2005 Yangarra Estate "Old Vine" Grenache. At $25, winemaker Peter Fraser has done a wonderful job with this wine. This wine is a steal. This Grenache comes from a single vineyard that was planted in 1946 called "The Beach". The vineyard is not irrigated, it's hand pruned, and it's hand picked. We got a lot of comments like "Wow this wine is really good" as we went around the table. If you like rich and fairly extracted wines you are going to love this gem. So strike up the barbeque, slather your favorite meat with some hickory sauce, and dig in and enjoy this Aussie Grenache. We rated this wine Very Good .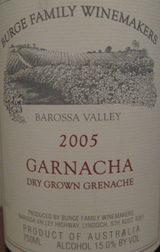 The final wine was the Burge Family Winemakers 2005 "Garnacha". This wine was the most refined and best of the group. Everyone really enjoyed this wine and felt it would be a fine choice to match with a nice juicy steak at their favorite steakhouse. Winemaker, Rick Burge, has done a super job with this elegant wine. A majority of the grapes for this wine came from the Olive Hill vineyard estate in Lyndoch. The vines in this vineyard were planted in the 1920's. According to Mr. Burge these old vine grapes provide the wine with its complexity and soft spicy flavours. The only thing holding everyone back from ordering a case of this terrific wine was the $45 price tag. So find this wine and enjoy it for your next special occasion. We rated this wine Very Good but a couple points ahead of the Yangarra.
Overall, we had a great experience enjoying Aussie Grenache. If you have the chance, find some Aussie Grenache and enjoy the ride. You too will find that Aussie Grenache Rocks!!