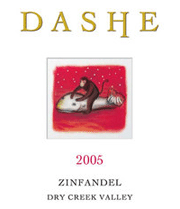 I thought for this post I would try a mini vertical of some highly acclaimed Zinfandel from the Dry Creek Valley in California. I personally think that the Dry Creek Valley is one of the premier Zinfandel growing regions in the world. Saturday night we tried the Dashe Cellars 2004 Dry Creek Zinfandel and the Dashe Cellars 2005 Dry Creek Zinfandel. What we found were two very different wines.
I liked both the wines, but I would enjoy them at very different times and on very different occasions. The 2005 was much more restrained and food friendly. While the 2004 was completely extracted, rich, and would go best on its own. In a recent article, Tim Fish from Wine Spectator said that the 2004 Zinfandels are generally more ripe and jammy while the 2005's are more focused and elegant. Based upon my mini veritical tasting Mr. Fish could not be more correct in his assessment. According to the Dashe Cellars tasting notes, the very end of the 2004 growing season had a heat spike which caused the jammy flavors and increased the sugar levels. Dashe did a very nice job of reeling in the alcohol while still showcasing the intense flavors of the vintage. While both wines have 14.5% alcohol, side by side you would think the 2004 has more and the 2005 had less.
We had fun with this little experiment and it reminded me of a post I did a while back on why vintages matter. So in conclusion, if you like a big, bold, and extracted Zinfandel then pick up the Dashe 2004. If you are looking for a more refined and restrained Zinfandel, you will enjoy the 2005. 
Cheers,  Ken