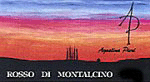 Welcome to my great grape post on Sangiovese. 
This post has been a bit of an adventure for me.  As someone who reviews wine for a living, it shouldn't be so hard.  First, the wines I requested didn't show up until today.  I was supposed to have them on Saturday.  The only wine I requested that eventually did arrive was a Super Tuscan that was mostly Cabernet. 
So I was panicking. 
Fortunately my retailer had a Rosso Di Montalcino that had been recently recommended to him.  He said the Mr. Parker had given it 90 points.  When I researched it, the review was done by Antonio Galloni who works for Mr. Parker.  So I thought I would look up the other scores on this wine.  The only other number currently posted were from Wine Spectator.  It was an 84. 
This is exactly the dichotomy that drives consumers' crazy when it comes to wine ratings.  Someone is right and someone is wrong.  Normally, I would not try such a wine, because I don't like to spend $24 and potentially end up on the wrong side of the ratings.  But in this case, I didn't have a choice.  So I dove into it. 
Agostina Pieri 2004 Rosso di Montalcino.  Rosso di Montalcino's are considered baby Brunellos that are softer and juicier than their big brothers.  This wine lives up to that description.  Here is what I thought.  This wine opens with a big sweet cherry pie bouquet.  On the palate, this medium bodied wine is round, jammy, and a touch acidic.  The cherry pie flavors explode on the mid-palate.  This wine has a new world profile that is intense.  The finish is quite dry and has noteworthy persistence and length.  So as you can see, I liked this wine and I think that Mr. Galloni nailed it.  I'm giving the wine a 90 score as well.  There are only 1,665 cases of this wine, so call your retailer now.  Enjoy,